The "Moneta" Remembrance / Souvenir "Mon
ey"The CASTELLO of RAPALLO (1550
)is the symbol of the city of Tigullio, w
ith historical card / with historical note i
s on sale at 4.90 euros
Rapallo Castle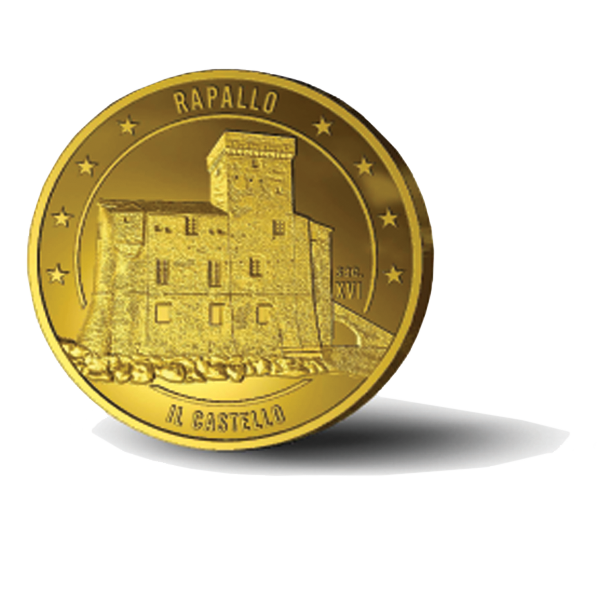 The Rapallo Castle is located at the eastern end of the Vittorio Veneto waterfront, surrounded by the sea and connected to the mainland by a stone walkway, its unmistakable silhouette is one of the symbols of the city.
It was built in 1550, with defensive purposes after the plundering and destruction of the village by the Turkish privateer Dragut, which enslaved many inhabitants. For a long time in
prison it has been restored, and is now a prestigious venue for exhibitions and conferences. He is also
the protagonist of the highlight of the city's patron saintly festivities: every year, on the 3rd of July, on the last evening of the festivities in honor of the appearance of N.S. of Montallegro, the Castle is the starting point of the fireworks display called "the shooting of the boys", at the end of which it is artificially set on fire.
The effect of the white pyrotechnic waterfall coming down into the sea from its roof and the red smoke coming out of its windows is unique in the world.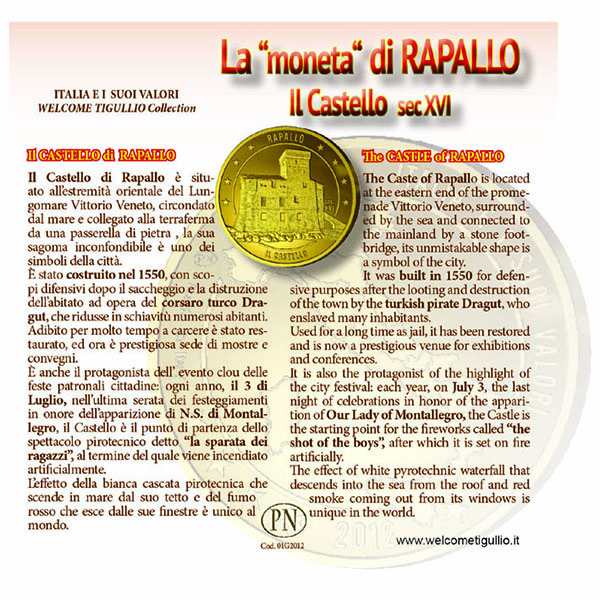 The Remembrance Coin has on the back the reproduction of t
he ITALIAPackaged in blister with historical card with information in Italian and Engl
ishFanno part of the collection other coin
s:– La Piazzetta di PORTOFIN
O– Villa CENTURIONE DURAZZO of SANT
A– N.S. montaLLEGRO (Master of Rapallo and surrou
ndings)- RapALLO Castle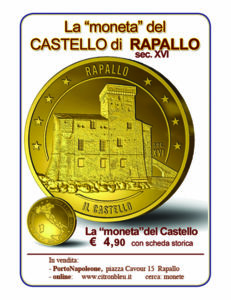 For sale 4.9
0 euros from PortoNapoleone to Rapallo or on the website www.citronbleu.it